Home Security Vacation Checklist
Your guide to peace of mind.
You shouldn't have to worry if your home and valuables are going to be safe when you are away from home, enjoying central Florida's theme parks and attractions.
Sure, you maybe going 60MPH on a monster roller coaster, or dining with your favorite royal family, but the last thing you want to do it worry about if your home is safe.
With Florida Security's mobile security notifications, and our fast reliable monitoring, you can have peace of mind that your home will still be waiting for you how you left it.
Do Not Make Your Home a Target for Burglars.
Make sure your Security Yard Sign is visible from the street. This will dramatically reduce the chances of an attempted burglary.

An old, damaged yard sign tells potential burglars that your system is out of service and maybe even broken. A new and undamaged yard sign will let them know that your alarm system is monitored and that your security system serviced regularly.

This will make them think again before targeting your property.

If you don't have a Security Yard Sign, call us for a free one today!

Most importantly, Arm your Alarm System in Away Mode as you leave. This arming mode will activate your system's interior sensors, such as motion detectors and glass break detectors.
Check On Your Home While You Are Away
View and control your security system via our Smartphone App.

Arm, disarm, or view your system's status.

Check to see if your house sitter has come and gone yet.

Check on your pet's, if you left them behind.

View and record live streaming video from your home.

Turn on, or schedule lights and thermostats.

Call 1-844-8-ALARMS for more information on our Home Automation services.
Create the Illusion That You Are Still Home.
Find a house sitter. A neighbor or friend that you trust to take care of some small, but critical, things around your home to make it appear your home is occupied.

Have your house sitter collect your mail, packages, newspapers, and any other home delivery services that could easily be stolen.

When mail or newspapers pile up, even just a couple of day's worth, it is a red flag for cruising burglars that no one is home, and unoccupied, a perfect target.

This is one of the most effective forms of crime prevention. Invest in motion sensor flood-lights or some outdoor garden lights to highlight your home's exterior. This will make approaching your home too conspicuous for a burglar. They do not want to be seen.
Quick Burglary Facts
Most burglaries occur between 10:00am and 3:00pm.

First stop: Master bedroom.

You probably know the burglar.

Click image to the right for more information.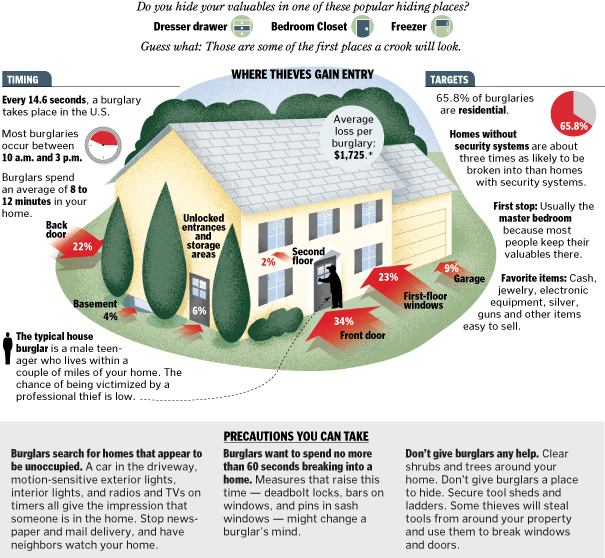 Secure Garages & Sheds
Make sure that garden tools or ladders that could be used to force entry into your home are not left lying around, or accessible from an unlocked garden shed. Garages are often targets for burglars looking for tools, bicycles and gardening equipment.
Check Doors and Windows for Weak Spots.
Statistics show that 30% of burglaries happen through windows. Installing a few dead-bolts and new window hinges could increase the security of your home exponentially.
Don't Hide Keys Outside
Burglars know to look for hidden door keys, so don't hide spare keys under rocks, in flowerpots, or above door ledges. Instead give the spare key to a family member or house sitter.
Keep Your Curtains & Blinds Closed
Make sure valuable items are out of sight. When going out for the evening make use of inexpensive timers to give the illusion of occupancy.
Get Your Free
Security Quote Today
Enter your contact information and Security Professional will contact you today to discuss your security options.
Or Call Us:
1-844-8-ALARMS