Congratulations on
Your New Home!
Purchasing a home is one of the most important investments you will ever make, and protecting your new investment can be just as important.
Why Add a Security System to Your New Home?
Peace of Mind - Sleep soundly, knowing your loved ones are safe behind a digital wall.

Always Connected - Local authorities & first responders are just a button away, via panic buttons.

More than Security - Your system can also be used to detect Fire, Smoke, and Carbon Monoxide.

Medical Alerts & Pendents - Yes, just like the "I've fallen and I can't get up" devices, your security system can call for medical help with the push of a button.

Smart Home - Control and schedule lights, thermostats and door locks.

Mobile Control - View live streaming cameras and recordings from your smart phone.

Pays for Itself - You could save up to 20% on your homeowners insurance! Ask your local agent about their 'monitored security system' discount.
Read Our Free Home Security Guide
Enter in your name and email address to the right and click send.
You will be e-mailed our 27 page Home Safety e-book titled, "How to Improve Your Home Security" within minutes. This book is full of valuable information to improve your home security practicly overnight. Print out a copy to share with the entire family.
Exclusive Offers & Discounts for New Homeowners
Receive 6 months of free emergency monitoring service with any system purchase.
Make your system wireless-ready and receive 2 free 4 button remote control kefobs.
$200.00 Off Existing Repairs
Already have a system but it's false alarming? Not working? We can diagnose and repair exisinting systems.
Get Your Free
Security Quote Today
Enter your contact information in the form. A Security Professional will contact you within one business day to discuss your security options.
Or Call Us: 1-844-8-ALARMS
Burglary Statistics & Facts You Should Know.
Homes without security systems are about three times as likely to be broken into than homes with security systems.

Most burglaries occur between 10:00am and 3:00pm.

68.5% of burglaries are residential.

Click on the House to the right for the full report.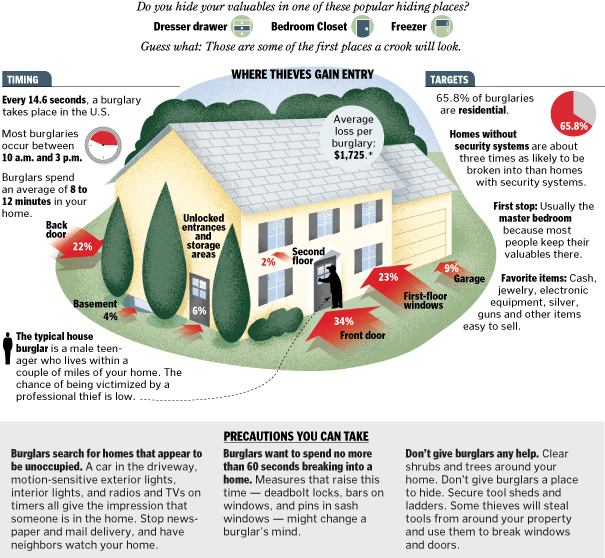 Did You Find an Existing Security System in Your Home?
You may have discovered an existing security system in your new home, and in most cases, the equipment is damaged or missing. The good news is you're half way to a safe home.
We can save you money by using the existing wiring throughout your attic and walls, and repairing broken security sensors. Whether the keypads are powered down, broken, or even dangling from the wall, we can help get it diagnosed and up and running!
The Top 3 Most Frustrating Things New Homeowners Find
1. Broken Keypads
When systems get old they start to 'beep'. When they start to 'beep', real estate agents get frustrated. When real estate agents get frustrated, keypads get ripped off the wall. You probably don't want to touch it, and you're right. You don't know if theres voltage still running through that wire. Have one of our security technicians take a look.
2. Burnt Out Transformer
A Security System's main power supply comes from a large transformer plugged in somewhere around the house, most of the time you can find it in a garage ceiling outlet, or the attic. When these get old they 'burn out' and over heat and turn brown or black. This is a fire hazard waiting to happen.
3. Old Yard Signs & Stickers
One of the most obvious signs to a criminal that your home is unprotected is old, faded, chipped security yard signs & stickers. Not only does this tell burglars that your system probably isn't working, but that your not monitored as well. Especially if the company is out of business! Burglars keep tabs on the local security companys, it's in their job description.
Why Choose Florida Security?
No Long Term Contracts

No Credit Check

No Price Increases

Locally Owned & Operated

In Business for Over 25 Years

Lowest Prices Guaranteed
Craig from Cocoa Beach, FL.
Satisfied Homeowner Since 2002.
Your Free Home Security Review - Fast, Informative and Free!
Whether you have found an existing system in your home, or you need a brand new one installed, we can help.
As a new homeowner you will receive a Free Home Security Review of your home.
What's included in your Free Security Review;
30-point complete security audit of your home, including all entrys, windows, and any existing security equipment if applicable.

The specific vonerabilities of your new home, and how to secure them.

A security plan customized to your specific dwelling and life style.

A complimentary safety gift for your new home.
Call Today to Schedule Your Free Review
& Claim Your Free Gift!